DreamHack Atlanta 2018

The developer of Aquadine will be attending Dreamhack Atlanta 2018, which is held in Atlanta, GA, from Fri. November 16, 2018 – Sun. November 18, 2018.
Update: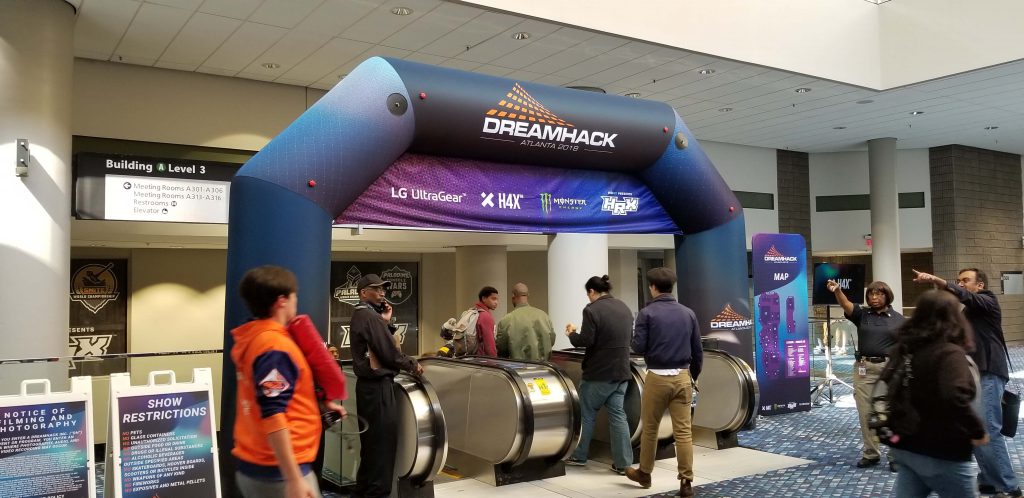 Dreamhack is widely known as a series of conventions where eSports tournaments take place, but it's actually much more than that. Indie game developers, artists, and even some cosplayers show up to these events as well, so there were plenty of reasons for me to go. Even though this was my first time attending Dreamhack, I saw lots of familiar faces from Momocon, like my friends from Macho Zero Productions. Once again, they were showing their really fun board game called "Zero Inbox," and it had plenty of improvements since they last time I met them. While we enjoyed a few games, they shared their experiences about PAX and Indie Megabooth, and also gave me great marketing advice. They're planning a Kickstarter soon, and I'm more than happy to continue supporting them. I pretty much spent the whole day talking to developers and playing their indie games.
I actually met another visual novel developer, by the name of Fiction Factory Games, as they were showcasing their game called "Arcade Spirits." Seeing a visual novel in an event filled with eSports was a pleasant surprise, and we shared our development experiences with each other. We're both using Ren'Py as our engines, and we both even added voices to our games that aren't fully-voiced lines. Since visual novels are so niche, building connections with other developers in this genre is so invaluable. One of them also streams herself playing visual novels, and you can check her out on Twitch as backseatgamingbros. Speaking of story-rich games, "Forgotton Anne" by ThroughLine Games was easily one of my favorite demos there. The visuals are so outstanding, and the animations are extremely fluid as well; it felt like I was watching and playing a Ghibli movie. You can make choices to determine the outcome of the story, much like visual novels. I had a nice conversation with both of these developers, and playing demos of their stories was an honor.
Brian
P.S. I won a pin for beating the first boss in "One Step From Eden"! That game is also pretty fun by the way, so check them out as well if you're interested.